THANK YOU TO OUR SPONSORS: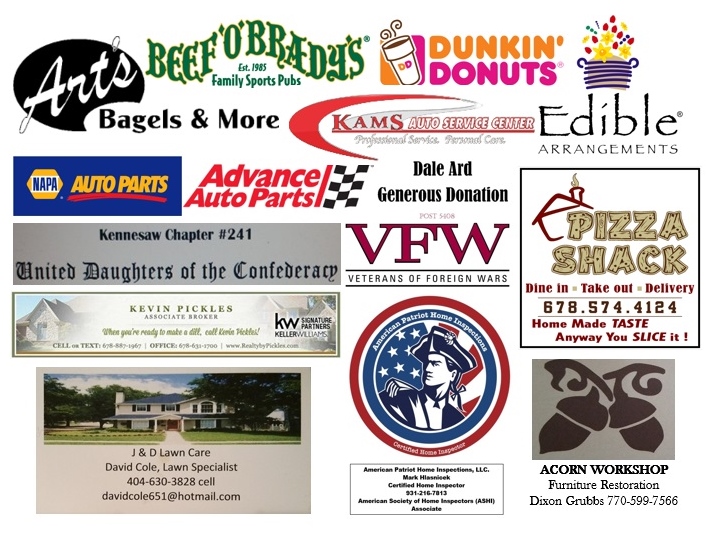 Morning Colors

Month: October
Uniform: NSU
Time: 0800
Arrive: No later than 0750
​Monday's:
Besse, Jacobs, and Yetman

Tuesday's:
Cunningham, Percell, and Valero

Wednesday's:
Annable, Ortis, and Goldstein

Thursday's:
Owens, McRae, and Skinner

Friday's:
Bennett and Boeche

Plan Of The Week

This Week
Monday 10/17:
Color Guard Practice 0730
Financial Issues 0730
Uniform Day (NSU)

Tuesday 10/18:
Academics

Wednesday 10/19:
Orienteering Practice 0700
PT

Thursday 10/20:
Orienteering Practice 0630
Academics

Friday 10/21:
Staff Meeting 0730
​FootBall Game
PT

Saturday 10/22:
Mckeena Farm Festival


---

Useful Links:

Upcoming Events

Event:

Mckeena Farms Falls Festival

Date:

Saturday, October 22nd

Uniform:

Red and Black PT Gear

Location: 3044 Due West Road Dallas, GA 30157
Info:Event:

Naval Air Station Pensacola FL Trip

Date:

Thursday, November 10th - Saturday, November 12th

Uniform:

Alternate Uniform

Payment Info:

No activity fee- total cost is $120 +food
Activity fee payed- total cost is $100 + food
1st deposit ($60) due Oct. 3rd
2nd deposit ($60)($40 for payed activity fee) due Oct. 24th

***All Deposits are NON-REFUNDABLE****

---

Recent Events

---

Allatoona Creek Park Workday


Cadets attended Allatoona Creek and helped clean up the trails and the surrounding areas. We regularly visit there to help create new trails and maintain the existing ones. Our community is very important to us and we are always eager to help them out.


---

---

St. Patrick's Day Parade


This weekend, our cadets went to atlanta to attend a St. Patrick's Day parade. There was a huge variety of groups there from Star Wars cosplayers to other JROTC units. The cadets had a great time handing out candy and building morale together.

---

---

National Orienteering Championship

After months of hard work and dedication our orienteering team traveled to Seattle, Washington to compete in the National Orienteering Championship. Out of over 620 NJROTC units across the nation only 28 qualified to compete in this highly competitive meet. Out of these Allatoona took home the 4th place trophy. Individual medals were given to Garrett Hill who placed 7th on the JV team, and Jordan Rogers who placed 10th on the varsity team. Out of the top 5 schools 3 of them were from Area 12. For more than a decade Area 12 has dominated the orienteering field. We look forward to next year's orienteering season.

---

---

Seattle Space Needle

While on our trip in Seattle, Washington we visited the Seattle Space Needle. Standing at over 600 feet high, the cadets got a spectacular view of the city and its harbors.

---

---

McKenna Farms

Last Friday, we went to McKenna farms, a horse farm that helps special needs children. We helped out around the farm by cleaning up after the horses and raking up hay. We enjoy serving our community in any way we can.

---

---

McKenna Farms

Cadets went to McKenna Farms, a horse farm for the special needs children. They helped out by raking up hay and cleaning up after the horses. We are happy to help the community by visiting McKenna Farms regularly.

---

---

Allatoona Creek Park Workday

Allatoona cadets are always eager to help out their community so they decide to visit Allatoona Creek and help get it in tip-top shape. They cleared the area and built paths for new trails and helped improve the ones that were already there.

---

---

Kennesaw Mtn. Trail Club

Cadets from Allatoona visited Kennesaw Mountain and participated in the trail club they have there.​ Cadets cleaned up the trails and the surrounding areas. They removed boulders on the trails that would have been otherwise hazardous to hikers.

---

---

Military Ball

​Cadets from Kennesaw Mtn. and Allatoona had a blast at our annual, joint unit, military ball. The ball consisted of a formal ceremony followed by food catered by Ruth Chris Steakhouse. After dinner cadets got to dance with their lovely dates.

---

---

McKenna Farms

​Cadets visited McKenna farms where they helped out by raking up hay and building fences. McKenna farms is a horse farm that is dedicated to helping out special needs children. We regularly visit here and are always glad to help out our community.

---

---

Keep Cobb Beautiful Tree Planting

Cadets went to Allatoona High School this weekend to work with Keep Cobb Beautiful. The cadets planted trees and had a great time doing it. The cadets in ROTC love helping the environment.

---

---

Area 12 Orienteering Championship

The orienteering team competed at the Area 12 Championship, which includes the NJROTC units from Georgia and northern Florida.. Out of the top 16 schools in the area we placed 3rd. We will be competing in the National Orienteering Championship in March at Seattle, Washington.

---

---

Georgia Navigator Cup Orienteering Meet

​Over the weekend our orienteering team competed in the Georgia Orienteering Navigator Cup in Gainesville, GA. Over 400 competitors from all over the U.S. and Canada traveled to compete in this highly competitive meet. We placed 2nd overall, beating the defending national champions Kennesaw Mtn. High School and placed runner up to the 2 time National Champions Henry County High School.

---

---

Allatoona Creek Park Workday

Cadets participated in an community service event where they visited Allatoona Creek. They cleaned up trash and made sure that the trails and creek were clean and clear of debris. Cadets had a blast knowing that they were making a real difference in the community.

---

---

Brain Brawl

Cadets visited North Cobb High School, where they competed in a brain brawl (academic) competition. They were faced with a series of challenging questions that they had to answer before the opposing team did. It was a fun learning experience for the Hillgrove brain brawl where we placed 5th.

---

---

Kennesaw Mountain Trail Clean Up

Cadets went to Kennesaw Mountain to work with the Kennesaw Mountain Trail Club. The Cadets helped clean up, maintain, and get rid of obstacles that are hazardous on the trails. The cadets enjoyed helping out the community while having fun too!

---

---

Bring One For the Chipper

Cadets went to Home Depot for a chipper event. The cadets moved trees out of cars and trucks and stacked them to get ready for the chipper. Everyone had lots of fun and enjoyed themselves.

---

---

Grace Community Church Dinner

​Cadets went to Grace Community Church where a formal Christmas dinner was held. Cadets waited tables and helped prepare the meals that were served to everyone. It was a fun and new experience for most of the cadets and hopefully they will have many more opportunities like this one in the future.

---

---

Kennesaw Christmas Parade

Allatoona NROTC participated in the Kennesaw Christmas Parade. Cadets got into the Christmas spirit and decorated the trailer and LCDR's truck. Afterwards they handed out candy to kids and adults. This event was a fun and new experience for the unit.

---

---

Parris Island Trip

Allatoona NJROTC teamed up with Kennesaw Mountain NJROTC and went to the Marine Corps Recruit Depot, in Parris Island, South Carolina. Cadets experienced what it was like to be a Marine Corps recruit. They were met by an intimidating yet motivational drill instructor. The drill instructor had the cadets attend a graduation ceremony consisting of over 600 newly enlisted Marines. It was a learning experience for sure.



---

---

Pearl Harbor Meet

Allatoona NJROTC competed in the Pearl Harbor Orienteering meet at Red Top Mountain State Park on November the 8th. Daniel Goldstein, Aaron Butler, and David Bennet placed 1st, 2nd, and 3rd respectively on the freshman course. Taylor McRae placed 3rd on the varsity course and the varsity team placed 3rd in their division. Overall the unit placed 4th at the meet.

---

---

Fun Meet

Cadets went to McEachern High School and competed in a fun meet against other high schools. Allatoona finished in the top five at the meet. The fun meet consisted of various running competitions and tasks involving teamwork.

---

---

9/11 Stair Climb

Cadets went to Atlanta on 13 September to climb 110 flights of stairs (the height of the twin towers) to honor the fallen firefighters that so courageously and willingly climbed into the fire and smoke to rescue our country's citizens on that fateful day. Thank you to all Emergency Services for your selfless sacrifice.

---

---

Covering the Bases

Covering the Bases is an Acworth based fundraiser that was started to raise money for the construction and maintenance of handicap accessible playgrounds and sports fields. This event happens annually, and starts in the evening and goes until the next morning at 7:00 am. During the event, cadets and other community members participate in a kickball tournament and later walk the bases of the softball field and have a good time the remainder of the night to generate money for the fundraiser.

---

---

9/11 Ceremony

The Allatoona Color Guard performed Friday night at the Allatoona vs Lithia Springs home football game. Alongside of 12 other cadets in a 9/11 ceremony, the Color Guard presented the colors to honor those who died in the catastrophic act of terrorism against our great nation on 11 September 2001.

---

---

Allatoona Cross Country Meet

Allatoona Cadets assisted the Allatoona Cross Country team in hosting their cross country meet. Cadets arrived early in the morning and set up along the trails to point the runners in the right direction. The parents of the runners brought delicious bagels for everyone to eat after a long day of work.

---

---

Marine Corps Counsel Meeting

---

Cadets (from left to right) Jacobs, Yetman, Griffith, Lewis, and McRae, A. went to the Marine Corps Counsel meeting on Wednesday to personally thank General Shortal for donating to our unit as well as allowing us the opportunity to attend Basic Leadership Training, and for those select few to attend Leadership Academy.

---

---

---

Relay for Life

Cadets spent the day raising awareness for cancer by participating in a two mile walk at the Relay for Life event. The cadets also regulated parking and played games. Everyone had a great time!

---

---

Sounds of McClure

Allatoona cadets spent the evening assisting the McClure Middle School band before and after their spring concert. Cadets also sold pizzas and monitored the event.

---

---

Awards Night

Cadets received medals and ribbons through out the night based on their personal achievement, inside and outside of the unit. The new 2015-2016 Cadet Staff was recognized, along with graduating seniors.



---

---

American Family Fun Day

Cadets volunteered with American Family Day Inc. to set up and coordinate the interactive entertainment, carnival-style games, and delicious food provided to the many families. The cadets had a blast, they also assisted in face painting, making cotton candy, and ensuring the children had a safe and fun experience.

---

---

Dobbins Air Reserve Base Color Guard

Allatoona cadets presented colors for two retirement ceremonies at Dobbins Air Reserve Base on their Saturday morning. Cadets had the privilege of meeting Air Force Major General Harris. Harris was amazed with the color guard performance and she presented a Challenge Coin to each of them.

---

---

Georgia Tech Orientation Visit






Cadets spent the day at an orientation trip to Georgia Tech, followed by a visit to the nearby Civil War Battlefield, Allatoona Pass, where cadets got the opportunity to walk around and see the historic sites and monuments. At Allatoona Pass, the cadets got to visit the grave of "An Unknown Hero" with a special burial site. The cadets had an awesome time!



---

---

Military Ball

Allatoona cadets had a blast at Military Ball on Saturday night with their sister school Kennesaw Mountain. The night was kicked off with the color guard(Rogers-commanding, Pisano, Cole, and Griffith) and the invocation(Lewis). Cadets enjoyed a formal sit down dinner, senior recognition, and royalty announcements. Congratulations, graduating seniors: Morgan, Harris, Wyatt, Scott, Gorley, Keeler, and Jackson. Congratulations to Jordan Rogers and Taylor McRae for being crowned King and Queen, and congratulations to Dylan Griffith and Samantha Annable for being crowned Prince and Princess. Everyone had a wonderful time!

---

---

Kennesaw Mountain Trail Clean Up



Cadets spent Saturday helping the Kennesaw Mountain Trail Club clean up and maintain the trails at Kennesaw Mountain. They moved rocks out of the way of the trails.

---

---

Annual Military Inspection

Cadets participated in our Annual Military Inspection, which consisted of personnel inspection, pass in review, reception, & staff lunch & brief. Our guest inspector was Captain Fritz, and our guest speaker was Superintendent Ragsdale. Thank you to all the friends and family who came out to support! Also, congratulations to all 10 of our cadets who recieved the Personal Appearance Award: Yetman, Griffith, Cole, Luce, Stathem, Knudstrup, Annable, Sandlin, Ortis, & Pelaez. Outstanding job!

---

---

Navy National Orienteering Competition

Cadets traveled across the country to Los Angeles, California to compete among the top 25 best NJROTC orienteering teams in the nation (out of a total of approximately 620). Allatoona placed 3rd on Varsity, and individual placers were Jordan Rogers: 6th on Varsity, Taylor McRae: 3rd on Varsity(female), and Jacob Keeler: 9th on Junior Varsity. Congratulations, and GO BUCS!
Cadets also got to tour UCLA and downtown Los Angeles, as well as go to Newport Beach!! Such an awesome trip! Thank you to all the cadets and parents who participated in making this happen.

More pictures located under the "Events/Pictures" tab!



---

---

Allatoona Creek Trail Clean Up

Cadets moved logs, cut down trees, and helped clean up Allatoona Creek last weekend. Thanks to those who came out to make this happen!

---

---

North Cobb Brain Brawl Competition

Cadets Deacon Harris, Jordan Rogers, Stephen Lewis, Anna Scott, and Ben Yetman competed at the North Cobb Brain Brawl. The team took 2nd place overall (compared to 115 other cadets). Congratulations, y'all! Awesome job!


---

---

Kennesaw Mountain Trail Clean Up

Cadets spent Saturday cleaning up the trails at Kennesaw Mountain. They built stairs out of rock slabs for one of the trails. The Allatoona cadets always enjoy serving their community, and have fun while doing it.

---

---

Hillgrove O-Meet

Cadets competed at an Orienteering Meet at Dauset Trails hosted by Hillgrove High School. They ran two courses: Score-O and a team relay. On the Score-O, Stephen Lewis, Justin Luce, and Taylor McRae's team placed first, and Chandler Wyatt, Zach Wyatt, and Anthony Pisano placed fifth. On the team relay, Jordan Rogers, Dylan Griffith, and Jake Morgan placed first. Congratulations!

---

---

Frey Elementary School Flag Ceremony

On Friday morning, cadets Jake Morgan, Deacon Harris, and Carson Cole assisted Frey Elementary School students how to properly raise, lower, and fold the United States colors. The students loved watching the ceremony and learning from the cadets afterward.


---

---

Adopt a Mile

Allatoona NJROTC cadets spent part of their Saturday morning cleaning up trash along the side of Mars Hill Road. This stretch of road is the mile they have "adopted" through the Adopt-a-Mile community service program. The cadets love to have fun and make an impact on the environment at the same time. 6 huge bags of trash were collected by these hard working cadets! Thanks to all who came out to help, especially the parent chaperones who always work so hard to help us succeed.

---

---

Allatoona Football: State Playoffs!



On Friday night, cadets worked the first round of playoffs in 20 degree weather. Those in uniform thoroughly enjoyed getting to wear their trench coats! As usual, the unit presented the color guard, worked tickets, parking, cannon, and cleanup. Even thought it was below freezing, the cadets had tons of fun helping out Allatoona's administration run the ins and outs of the football game. Allatoona won the first round of playoffs, so the cadets will be back at it again next Friday at home! Thanks for all of y'all's help!

---

---

Veterans Day Parade


Allatoona JROTC cadets participated in marching in a parade for Veterans Day at the Marietta Square. The cadets had lots of fun and were happy to have to opportunity to march in a parade for such a meaningful day. To all the Veterans- thank you for your service and sacrifice! We would not be what we are today without you all!

---

---

Pearl Harbor Orienteering and Fort Gordon Visit

Allatoona cadets spent the night up in Thompson, GA for a combination of a visit to Fort Gordon Army Base on Saturday, and a sanctioned Orienteering Meet hosted by Eagle's Landing on Sunday. The cadets had a blast on the trip and worked their butts off running through the woods. Congratulations to our orange course runners who earned 2nd place on their course. Also, awesome job to our individuals who placed: Rogers- 3rd on green, Keeler- 1st on orange, and Lewis- 2nd on orange. Thanks for coming out and working hard, and a special thank you goes to LCDR Cole, MSgt McKoy, the parent chaperones, and the booster club for allowing this event to take place!

---

---

Veteran's Hospice Color Guard


Allatoona cadets presented colors for Veterans going through Hospice care. The Veterans loved the color guard and really enjoyed spending time with the cadets afterward as well. Thank you, Morgan, McRae A, Hunter, and Griffith! Outstanding job!

---

---

CMSgt Pinning Ceremony Color Guard

The competition color guard team (Morgan, McRae T., Cole, & Rogers) presented colors for the pinning ceremony of Chief Master Sergeant LeClaire (our own LeClaire's mom!) at Dobbins Air Reserve Base. The cadets attended the ceremony afterward and were invited to enjoy some cake at the reception! The new CMSgt complimented us on the cadets, which means a lot! Congratuations, CMSgt LeClaire! Thank you so much for the opportunity. We also spent part of the day touring the NOSC at Dobbins. The cadets had tons of fun spending time with each other and learning more about the operations of an Air Force Reserve Base. Thanks to those who participated!

---

---

American Family Day

Allatoona cadets assisted the American Family Day Corporation yet again in hosting one of their company events. Cadets spent the day making veterans smile. They participated in making cotton candy, playing music, and hosting games and raffles all for a group of veterans. Thank you to all who came to help and support! The unit received a donation of $1800 for their hard work. And thank you to all the veterans out there who have fought to keep our country safe!

---

---

Buc Open Rifle Meet

The Allatoona NJROTC Sporter Rifle Team competed in the Buc Open Rifle Competition this past Saturday. They competed in a 3 by 20 (20 shots prone, 20 shots standing, & 20 shots kneeling). These straight shooters brought home lots of individual medals, as well as the team getting 2nd place in the sporter category! Congratulations, guys and gals! Awesome job!

---

---

Luella Sanctioned Drill Meet!

On Saturday, October 25, Allatoona cadets traveled to Luella High School and competed against 16 other schools in our region in the categories of Armed Basic and Exhibition Drill, Unarmed Basic and Exhibition Drill, Color Guard, Personnel Inspection, Academic, and Athletic events. Allatoona took 2nd in Color Guard, 4th in Academics, and 4th in Armed Basic. Congratulations to you all! Awesome job! Thanks to all who came out to contribute, and for all of our supporters!

---

---

Homecoming Football Game

On Friday, October 24th, AHS had their homecoming football game against Paulding County. As an annual tradition, cadets performed the sword arch for the homecoming princess and queen nominees. The cadets performed exceptionally well and the arch went off without a hitch. On top of it being homecoming night, we performed all other duties such as parking, color guard, clean-up and cotton candy sales, and Allatoona won again! A big thank you to everyone who helped out!

---

---
"Anchored in Excellence"